Executive Director of Campus Montréal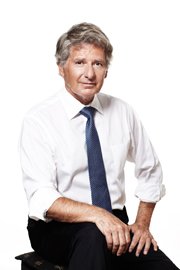 John Parisella is currently Executive Director of Campus Montreal, which is responsible for the current major fundraising campaign at HEC Montréal (business school), Polytechnique Montréal (engineering school) and Université de Montréal. He serves as associate professor in the political science department. He is associated with the Chaire Raoul-Dandurand, a center for U.S. studies, at Université du Québec à Montréal and a Fellow at the Center for International Studies and Research (CERIUM). Also, he is Honorary President of the Ambassadors' Alliance of the Center for Interuniversity Research and Analysis of Organizations (CIRANO).
Author of several publications and speaker at several forums, he is also co-author of two books (Elections: Made in USA 2004, 2008) and regular blogger for America's Quarterly. From 2008 to 2013, he was also a blogger on politic for Macleans magazine. He acts as a political analyst with several media across the country. Currently, he is a political analyst for U.S. policy at the Canadian Broadcasting Corporation.
A graduate of McGill University in political science, education, and management, and Concordia University in political science, John holds a certificate in senior government management from Harvard University's John F. Kennedy School of Government. Throughout his career, he has worked in three areas: education, politics where he served as Director General of the Liberal Party of Quebec, Chief of Staff of the premiers Robert Bourassa and Daniel Johnson, as well as adviser to the Premier Jean Charest, and the business community as President of BCP (a marketing/communications firm). From 2009 to 2012, he served as Québec's Delegate General in New York – Washington. In addition to his professional activities, John has served as a volunteer on boards in the education, business, health, and cultural sectors. From 2005-2009, he was co-President of The Tolerance Foundation. In May 2014, he was named Personality of the TOP 20 Diversity Award 2013 at the Grands Prix Mosaïque – Lys de la Diversité du Québec.
Priorities Directorate
Director of the Research Office and Professor, Institute of Applied Economics, HEC Montréal

Chief Innovation Officer, Professor, Polytechnique Montréal

Vice-rectrice à la recherche, à la découverte, à la création et à l'innovation
Development Directorate-General
Executive Director, Fondation HEC Montréal

Chief Executive Officer, Fondation de Polytechnique, Association des Diplômés de Polytechnique

Office of Development and Alumni relations, Université de Montréal
Development Directorate
Jocelyne Gonthier
Director of Major and Planned Gifts
Fondation HEC Montréal
Chantal Gélinas, CFRE
Director, Corporate and Foundation Relations
Office of Development and Alumni Relations
Université de Montréal
Campaign Office
Stéphanie Barker
Chief of operations
Sophie Cardinal
Communication manager
Josée Deschamps
Assistant to the Executive Director
Mireille Michaud
Administrative Coordinator
Amélie St-Pierre
Manager, web communications