How can we accelerate discoveries to conquer cancer?
Why support IRIC?

IRIC is not only one of Canada's most innovative cancer research centres, it's also the largest. The centre employs nearly 500 experts working to find a cure for cancer from the largest technology park dedicated to biomedical research in the country. The team's unique approach has already led to discoveries that will have a significant impact on cancer rates over the next few years. 100% of all donations go directly to research.
Project Benefits :
Advance our understanding of the biological mechanisms involved in the occurrence and development of cancer
Accelerate the discovery of more effective anticancer drugs and treatments
Enhance the reputation of Montreal, Quebec and Canada as leading centres for cancer research
Train elite researchers
Project description
IRIC's mission is to improve public health by accelerating the discovery of more effective anticancer drugs and treatments. The Institute gives priority to innovative, creative and audacious research projects with strong potential for leading to new drug developments.
IRIC's sole objective:
Innovative leader in cancer research
Traditionally, research centres attached to academic institutions focus primarily on basic research. IRIC takes a different approach by working in all development phases of cancer medication—from basic research through to production and marketing of findings with various partners. This unique work method allows IRIC to dramatically accelerate the pace of its cancer research.
A global hub
The internationally recognized institute draws experts from around the world. This ultramodern research centre promotes collaboration among the various areas of expertise and shares its database in real time with specialists from the international community, so that IRIC can, in turn, gain from their insights. With so many foremost researchers concentrating their best efforts on the same objective, there are numerous concrete results.
Every donation makes a difference
Philanthropic giving has a major impact on IRIC's ability to push the boundaries of its research and accelerate the discovery of more effective anticancer drugs and treatments. Every contribution gives an incredible boost to the support available to cancer patients. 100% of donations go to research. By giving to IRIC, you are helping conquer cancer.
The fundraising campaign will help:
Launch 6-10 projects annually over the next five years;
Develop ground-breaking equipment designed specifically for IRIC's research needs;
Offer scholarships to top students;
Maintain the University of Montreal's impressive biomedical research technology park;
Implement clinical trials on patients fighting different types of cancer;
Invite more seasoned researchers and scientists;
Fund additional trials for highly complex studies.
Join us by giving generously to this fundraising initiative led by Campus Montréal. Help our researchers cross the finish line in the fight against cancer.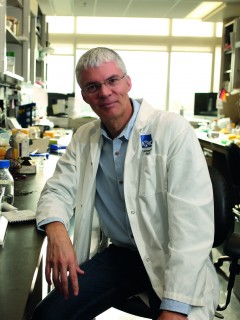 Dr Guy Sauvageau
Principal investigator at IRIC and professor at the Faculty of Medicine at the Université de Montréal
During the radio show
Les Années Lumière
, Radio-Canada has bestowed the title of
Radio-Canada Scientist of the Year
on Dr. Guy Sauvageau for the discovery of a molecule capable of multiplying umbilical cord blood stem cells. Congratulations to Dr. Sauvageau and team members that contributed to this discovery!
As one of Canada's cancer research hubs, IRIC's significant advances in cancer treatment have made a difference in the fight against a disease that continues to claim far too many lives. But there is hope for the future and I'm confident that the projects undertaken by IRIC will achieve historic breakthroughs with the development of new drugs and treatments.
More info