October 20, 2014, 10:29am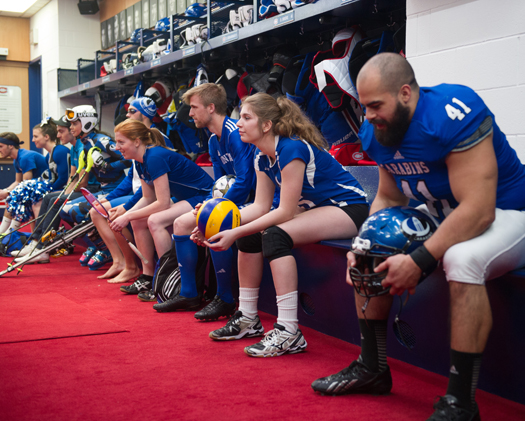 Elite sports provide some of the most fertile ground for cultivating the leaders of tomorrow. In my view, high-level performing athletes possess all the key leadership characteristics: they set goals, are competitive, outperform their peers, display team spirit, and show a dogged determination to constantly push back their boundaries.
The Carabins varsity athletics program has all the components to build great leaders. The pursuit of both academic and athletic excellence will allow these young student athletes to make their mark and play an active role as leaders in our community.
For a university to have a variety of sports teams on one campus is exciting on several levels. This is something American universities understood a long time ago.
Sport has an amazing capacity to increase brand awareness and enhance the visibility of a university. It is also a promotional and recruitment tool. Given the limited number of students who can join the Carabins – fewer than 500 – our brand has nonetheless become one of the top four most important sports properties in Montreal, along with the Canadiens, the Impact and the Alouettes.
The Carabins are a source of pride and school spirit. A symbol of success and achievement. Which explains their strong presence in the community.
I'd like to think that we are on the cusp of a great adventure. In less than 15 years, we have gone from 50 to more than 450 student athletes, but we could pick up the pace, shift into a higher gear.
With more resources, we could accept a greater number of students in the athletics program, add more sports, and extend our ability to compete against other varsity teams from top Canadian universities. Most of our teams are already ranked in the top ten nationally.
Your ticket to a season of excellence
Donating to the Carabins is like having a ticket to a season of excellence. You're contributing to a unique experience for the next generation and training leaders in a society that sorely needs them. You're helping to develop a distinctive program that rallies the community together.
Our varsity sports program leaders have a grand vision: to set the benchmark for Canadian universities in terms of academic support for varsity athletes and to rank among the top five university athletic programs in Canada.
I'm convinced that we will achieve this vision.
Get your season ticket. Donate today. Support "les Bleus." It's an investment in our future leaders!
By Robert Dutton, corporate director and president of the Governors' Varsity Sports Club at the Université de Montréal
Photo credit: James Hajjar